Don't Miss Your Life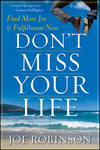 Robinson, Joe.
Don't Miss Your Life: Find More Joy and Fulfillment Now
. New York: Wiley, 2011.
Call Number:
650.1 R563d
Publisher's Description:
For readers who have achieved things in life but don't know how to enjoy them, this is a highly practical self-improvement book with a prescriptive program for how readers can live life to the fullest. Joe Robinson is one of the world's experts on the balance of work life and down time. He writes that life satisfaction is more likely to come from your nonprofessional life than from your job, and that the happier you are in your personal life the more likely you are to be productive in all aspects of your life. Robinson's new book, drawing on the latest research in positive psychology, focuses primarily on what to do outside of your work life--in your down time--to make sure you have a fully rounded life. The book includes action steps and exercises to help you create a path to a happier, more fulfilled life.
Publisher's Page
:
http://www.wiley.com/WileyCDA/WileyTitle/productCd-0470470127.html